Homeowners today are no doubt handling more and more residential AC service on their own, using online videos and rented tools when needed. Some even attempt their own air conditioning installation, hoping to save on the cost of an HVAC contractor. While it might be cheaper to attempt DIY AC service and installation, there are many reasons to reconsider trying this work yourself and leaving it to the professionals instead.
One advantage of DIY air conditioning service is not having to face the expense or wait when you call an HVAC contractor. However, today's air conditioners are usually more complicated than ever before and require specific tools as well as experience and knowhow for proper repairs.
If you're a homeowner it's vital that you consider the pros and cons of DIY AC repair and installation before assuming you can tackle this work on your own. You might also note some tips for do-it-yourself air conditioning tune-up and small repairs that can get the AC working again in no time.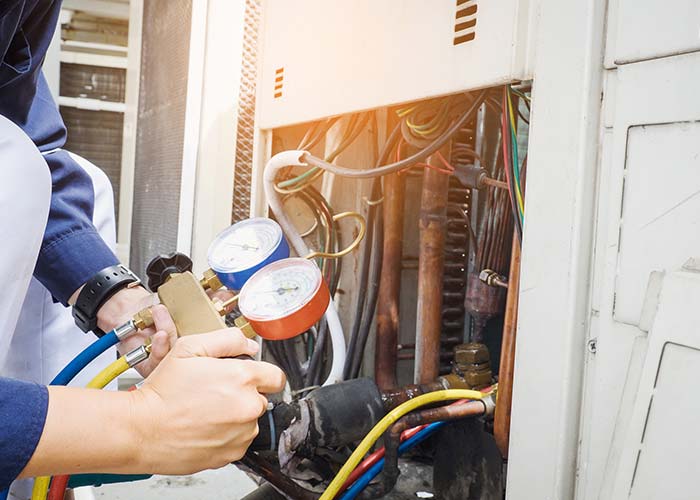 Remember, too, that AC companies near you might be far cheaper than you realize, even offering to find discounts and rebates on new HVAC systems, air conditioners, furnaces, and whole house ventilation systems. You can then rest assured that your home's HVAC is in good condition without worrying about overpaying or not being able to afford a new air conditioning installation.
The Pros and Cons of DIY AC Service and Installation
First note some additional details when it comes to DIY AC service and installation so you can better evaluate the pros and cons of attempting HVAC work on your own. While reviewing this information, remember that it's always good to call an AC company near you if you know any work is outside your area of expertise, to ensure you don't cause more damage while trying to fix a residential appliance!
One advantage of DIY AC installation is that you can pick and choose whatever brand and model of HVAC unit you prefer. Some AC companies only carry a select few brands of air conditioners; while those brands are typically the most reputable on the market, they might also be outside your price range! When you DIY air conditioning installation, you're not limited by anything other than availability and your budget.
While homeowners are often worried about air conditioning repair costs, you might also want to avoid the wait as well! If your air conditioner fails during the middle of summer when AC companies are already busy with appointments, you won't need to worry about when they can get you on their schedule if you tackle those repairs on your own.
In some cases, needed air conditioning repairs are minor and don't necessarily need the attention of an HVAC contractor. At least attempting a few quick fixes might get your home's air conditioner working again in no time, without the wait and cost of hiring a pro.
One disadvantage of DIY AC installation is that air conditioning compressors and their housing are often heavier and more cumbersome than homeowners realize. Even with furniture moving equipment, it can be difficult to get a new unit onto your home's exterior concrete pad.
Older air conditioning compressors are also more difficult to remove than a homeowner might realize. Rusted bolts and connectors might need specialty tools for removal, and a homeowner also then needs to consider how to dispose of an older unit.
An air conditioning contractor inspects a home's current electrical wiring, noting if it's in good condition and able to support the demands of new appliances. Older, outdated wiring is more prone to fraying and other damage but a homeowner might not know how to inspect and evaluate that wiring during DIY AC installation.
Improper connections during AC installation can result in air leaks, blocked condenser drains, and other such issues. This can mean added wear and tear on the AC unit as well as early breakdown.
Today's air conditioning units are often more complicated than ever before, offering zone cooling, built-in dehumidifying, and other such features. A homeowner unfamiliar with these features and details might not have the proper tools or knowhow to perform needed repairs on these upgraded, modern features.
An air conditioning contractor might offer added services during their AC repair call including thermostat calibrating, cleaning, a new filter installation, and the like. While they might seem trivial, these simple tasks can keep the AC unit functioning optimally, making their service call worth the price!
What to Do When You Need Air Conditioner Repairs
Calling AC companies near you is the best choice when you need air conditioner repairs, but you might also try a few simple tips that might get that appliance working again as it should. If the unit doesn't cycle on at all, you might only need to reset the home's circuit breaker! There is also typically another shutoff switch outside the home, near where the wiring meets the exterior wall, and that also might only need to be switched back on.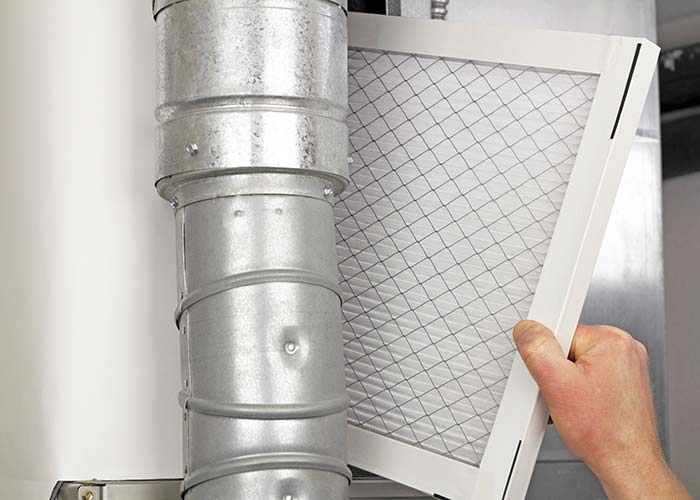 If the home's air conditioner cycles on but doesn't cool interior spaces as it should, try changing the furnace filter. Cool air is pushed through that filter and when the filter is clogged, less air gets through. Changing that filter regularly, even as often as every month, also reduces wear and tear on the AC unit and keeps it functioning optimally.
If you hear a banging or thumping sound when the air conditioner cycles on, switch off the circuit breaker and open the top of the housing unit. Check for any debris around the motor or fan; twigs, rocks, and even tiny pests making their way into that housing unit can cause banging and thumping sounds. If you notice loose parts, it's time to call for professional AC repair near you!
What Is an AC Tune-up and Is It Worth the Cost?
It's also good to schedule regular AC service and maintenance every year, or what many people call an AC tune-up. This service typically involves a thorough cleaning of the air conditioner compressor housing as well as reshaping any bent grilles or fins around that unit. This ensures proper airflow, needed to keep the compressor cool as it operates.
An AC repair company technician will also typically clean the inside of the unit as well, removing dust and debris from around the fan and motor. Refrigerant levels are checked and recharged if needed. The condenser drain is also checked for blockage and leaks, and cleaned thoroughly.
An AC tune-up might also include a change of the home's furnace filter and check of the ductwork and vents inside the house. The thermostat might also be checked and calibrated, to ensure it reads interior temperatures properly and cycles the AC on and off as needed.
Regular air conditioner maintenance is well worth the cost, as it ensures the appliance is working optimally and efficiently throughout the year. An appliance struggling to work usually draws more power overall, increasing your utility costs, whereas a clean and well-maintained AC uses less power when in operation. Those lower utility bills can more than compensate for your AC tune-up costs!
Should You Pay for AC Repair or Replace the Unit?
Another benefit of calling on an AC company near you is that a technician can note if your unit needs replacing rather than repairs. In some cases, an air conditioner is nearing or past the end of its expected lifespan so that you might need to continuously repair or replace costly parts over the next few years. A new air conditioner installation cost might be equal or even lower than all those expected repair bills!
Note, too, that some parts for older or off-brand air conditioners become more and more difficult to find over the years! If your AC technician simply isn't able to find replacement parts, you might need to replace that appliance anyway. Avoid the risk of having to wait days for a new AC unit in the middle of summer by replacing it once it's gotten to a certain age or needs a number of costly repairs.
A new air conditioner might also run more efficiently than your home's current appliance, using less electricity overall. You might also enjoy upgraded features such as zone cooling, air direction control, fan speed control, and the like. These features allow more control over the air conditioner operation, saving money on otherwise wasted use while also ensuring maximum comfort and cooling where it's needed most!
Related Questions
How long should AC service last?
There is no easy answer as to how long air conditioning repairs should last; this depends on the durability and expected lifespan of the AC unit, the expected lifespan of replacement parts, and demands put on the AC unit throughout the day. Your AC repair technician can note how long certain repairs should last and if you might need to invest in a new unit, as said.
How much should AC service cost?
Depending on the AC service needed, a homeowner might pay anywhere from $150 to $500 for standard air conditioner repairs. Larger units and those needing extensive repairs might mean added costs overall.